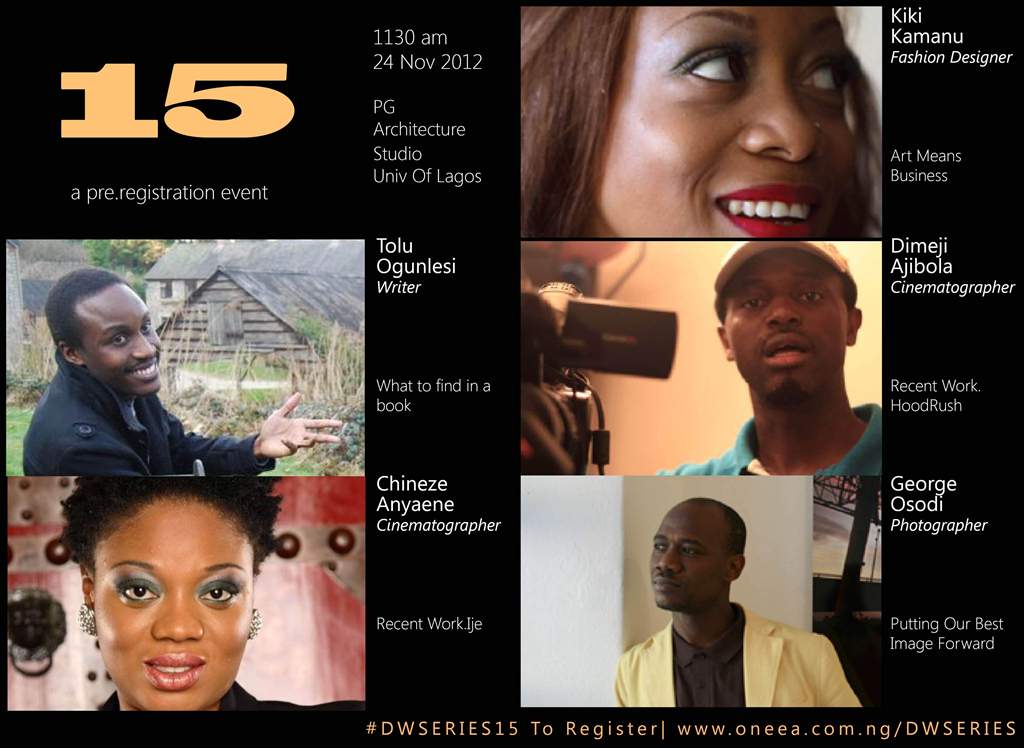 osodi . kamanu . ogunlesi
            ajibola . anyaene . omotayo
The organizers of the DWSeries are delighted to announce the confirmation of George Osodi international feature photographer, Kiki Kamanu creative director of the Kiki Kamanu fashion label, Tolu Ogunlesi CNN award-winning journalist, Chineze Anyaene multiple-award winning film director, Dimeji Ajibola NYFA-trained filmmaker & animation specialist, and Papa Omotayo Architect & Founder of WhiteSpace Lagos as speakers for the fifteenth (15th) edition of the DWSeries.
OH THERE'S MORE, JUMP IN & SEE
George Osodi, is a Nigerian photographer based in Lagos. He studied Business Administration at the Yaba College of Technology in Lagos, before working as a photojournalist for the then defunct Comet Newspaper Lagos from 1999-2001. He joined the Associated Press News Agency Lagos in 2001 and resigned in 2008. Osodi has covered many assignments for both local and international organisations, with his photographs published in many international and local media such as the "New York Times," "Time Magazine," the "Guardian of London," "The Telegraph," "USA Today," the "International Herald Tribune," CNN, BBC Focus on Africa Magazine and many more. A member of Panos Pictures U.K., George Osodi has also exhibited his works worldwide with his works in the collections of Museumslandschaft Hessen Kassel, Neue Galerie, EMET- National Museum of Greece, Smithsonian museums New York USA and number of private collections. George's photos of the poor living conditions in Nigeria's oil-rich Niger Delta have earned him critical acclaim in local and international circles.
Kiki Kamanu, a product of a Bostonian mother and Igbo father is also the face of her eponymous label, which was birthed when she began revitalizing her twin sister's clothes at age eleven. While with the Ford modelling agency in Boston, she had the honour of walking for several designers including Chanel and Gucci. Kiki received her education across 3 continents, and having travelled to over 50 international destinations in five continents, it reflects in the diversity of her creations. Kiki left her plum job at Harvard University as an executive program coordinator to create one of her best eclectic pieces till date: the revolutionary multifunctional 'Comme Tu Veux' wrap that stunned heads at London's Fashion Week. The Kiki Kamanu brand has graced several runways including Sleek, London Fashion Week and the ARISE Magazine Fashion Week. In her former role as Editor of élan magazine, Kiki was credited with revitalizing the weekly fashion pull-out of the 234NEXT newspaper with the addition of creative and bold editorials.
Tolu Ogunlesi was born in 1982. He is the author of a collection of poetry, Listen to the geckos singing from a balcony (Bewrite Books, 2004) and a novella, Conquest & Conviviality (Hodder Murray, 2008). His fiction and poetry have been published in The London Magazine, Wasafiri, Farafina, PEN Anthology of New Nigerian Writing, Stanford's Black Arts Quarterly, World Literature Today, among others. In 2007, he was awarded a Dorothy Sargent Rosenberg poetry prize, in 2008 the Nordic Africa Institute Guest Writer Fellowship, and in 2009 a Cadbury Visiting Fellowship by the University of Birmingham. He was also awarded a 2009 CNN Multichoice African Journalism Prize in the Arts & Culture category. Before now he has worked as a pharmacist, a management consultant and as corporate communications executive with Visafone. He currently works with the British Council Lagos as Arts Manager.
Chineze Anyaene is the founder of Xandria Productions, Director and Produccer of Ije: The Journey. She attended the University of Abuja Nigeria for a first degree and later moved to the New York Film Academy NYFA where she completed a one-year filmmaking programme. While at NYFA, Anyaene was recognised for creating an outstanding epic folktale, noted as the best "foreign film" of her graduating class. Chineze was not only the first student in the history of the NYFA to make a feature film while in school – "Ije: The Journey", but also the first to receive a production sponsorship from Kodak. She also has credits for 12 short films, two commercials and one music video.
Dimeji Ajibola is a filmmaker with interests in virtual reality, animation, cartoons, interactive digital media, and music. Ajibola studied Advance Character animation while in San Francisco and film-making and cinematography at the New York Film Academy, Universal Studios, California. He currently leads Flipsyde Studios in the hitherto untested waters of modeling, character rigging for animation, visual effects and the meticulous art of motion capturing. Ajibola has scored a first, in the direction and production of the first musical film ever seen in the Nigerian film industry – HoodRush.
Papa Omotayo trained as an architect at the Welsh School of Architecture, WSA of the Cardiff University in Wales and co-founded O+O Architecture & Design. Papa represents a fresh generation of African architects who are exploring local palettes and cultures in producing architecture that is rich in theory and substance. He founded Whitespace Lagos as an avenue to accommodate multiple design disciplines, artists, theorists, philosophers and musicians in a melting point for the arts, exhibitions and shows. Omotayo is also a member of Bukka, nonprofit organization that investigates the city.  He has designed commercial, residential and institutional buildings in London and Nigeria. Papa is a member of the Royal Institute of British Architects RIBA.
ABOUT DW SERIES
Established in 2011, the DWSeries has become a major avenue for consistent interaction between industry practitioners and students or willing youths, hence bridging the gap between the two worlds and challenging young minds to creativity and focus. Set on the main campus of the University of Lagos, DWSeries has received an enthusiastic response from the audience as the forward-looking, experimental and context sensitive show. In December 2011, the organizing committee decided to re-work the workshop series by introducing a system where industry practitioners who have made a reputation out of careers in the creative economy: art, architecture, cinema, literature & music; are invited to keep the lectures expository and interesting.  Since February 2012, Tunde Kelani, Kelechi Amadi-Obi, Paul Kodje, Bez Idakula, Omoyemi Akerele, Dapo Akintunde, Lagbaja, Lanre Olusola, Eghosa Imasuen and a myriad of others have graced the DWSeries' stage to deliver thought-provoking sessions.
Attendance has been fully paid for by the facilitators - ONE EA but seat reservations need to be made.
Fill in "Full name" and "e-Mail address" on
www.oneea.com.ng/DWSeries
The organizing committee includes Tony Oladeji Director of the Lagos Biennial, Segun Oduola, Tosin Adeoye, Fehintola Lawal-Are, Sasha Okwoju, Adedamola Osinloye and Pelumi Olowolafe, Head DWSeries. The 15th edition of the DWSeries is funded by ONE EA. Prospective project investors are welcome: kindly write: [email protected]
Date:     Saturday 24 November 2012
Time:     12.00 noon prompt [Attendees to be seated by 11.30am]
Venue:     PG Architecture Studio, University of Lagos, Akoka-Yaba, Lagos.
If you have questions or require further information, please do not hesitate to contact us. More information concerning the workshops is available on www.oneea.com.ng/DWSeries

Tags: Bez Idakula, Chineze Anyaene, Dapo Akintunde, Dimeji Ajibola, DW Series 15, Eghosa Imasuen, George Osodi, Kelechi Amadi-Obi, Kiki Kamanu, Lagbaja, Lanre Olusola, Nigerian Photographer, Omoyemi Akerele, Papa Omotayo, Paul Kodje, Tunde Kelani