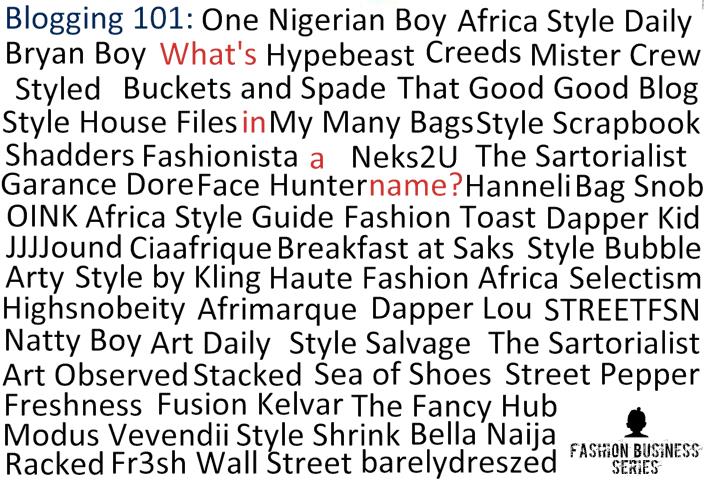 Bryan Boy, Style Bubble, Jak & Jil are some of  the most popular fashion  blogs in the blogosphere of  over 184 million blogs serving different sectors and niches. It's clear that in order for your voice to be heard you need a strategy to create a buzz and drive traffic to your site whether you are blogging for pleasure or intend to do it full time as a career. One of the key determinants of your success is the name/title you choose for your blog. In my 3 years of blogging i've been able to rack little experience in the art of creating a successful blog and everyday i am more aware of the importance of a name. There are various factors to put into consideration when choosing your blog/name and title and i would outline them below. Text after the jump.
- Google/Search Engines: This is probably the first thing your should consider when selecting your blog name. Search engines are the lifewire of your site traffic when you first start your blog. You have to consider the niche you're serving and make sure that you add keywords for that sector or niche in your blog title. For example, the name "One Nigerian Boy" was very intentional because i knew i'd be blogging about 'Nigerian Fashion' and loads of other things centered around Nigerian arts and creative industry. So if  a prospective reader types in Nigerian + Fashion + blog into the google search bar 'One Nigerian Boy' will pop up on the first or at least second page because i've got "Nigerian" in my blog title and 'Fashion' is a key word on my blog that usually appears in almost every post on my blog.
- Easy Recall: For this reason it's best to keep your blog title short and easy to remember. Blogs like Bella Naija, Hypebeast or The Fancy Hub are sorta catchy and easy to recall so its easier for people to type in all the words together and add .com to it…bingo! you've made their journey to your site easy. But if your site name was for instance ' i am a sassy queen from Nigeria' or ' St*r' you are giving people a challenge in have to cram up words or moving between shift keys when typing your blog title into the add bar. Also using catch phrases or just tapping into the culture around you cand the society can create an iconic blog name/title like 'Breakfast at Saks' . This way you get traffic for not just your content but the cool vibe of the name.
- Blog Evolution: These days its easy for a blog to evolve into an online store, clothing label or a pr outfit. One Nigerian Boy for instance has evolved into ONB PR -ONB stands for One Nigerian Boy- and ONB Style (the styling branch of the brand) and i was able to still retain the blog name for these other sub branches of  it. If my blog name was ' i'm a sassy queen from Nigeria' it would sound weird adding PR or Style to the end of that. So whatever your strategy is, you gotta name your blog with a view that in the future the blog would/might get bigger and you might want to leverage on the name to create other companies for greater visibility, faster.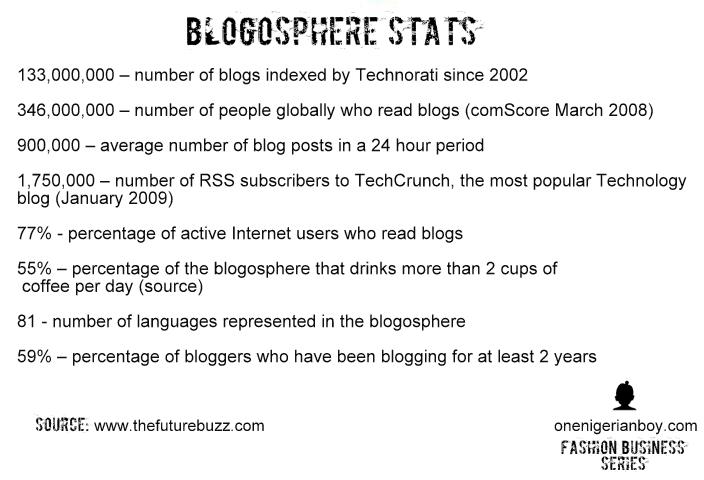 For now, these are the most pertinent factors to consider in my opinion, but i'm inviting readers to join the discussion and leave comments noting other vital points i might have missed out. All the comments will be applied in the updated version of this post subsequently.

Tags: blogging 101, blogging essentials, how to choose a name for your blog