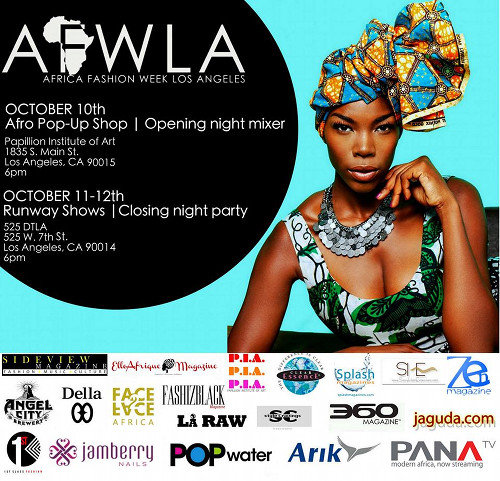 This season, AFWLA will again position itself as the largest African fashion event in Los Angeles for independent fashion designers to showcase their collections. During LA Fashion Week, AFWLA will host a selection of high-end runway shows as well as a Pop-Up Shop, and closing night party. With designers flying into Los Angeles from Sierra Leone, France, Uganda, Tanzania, as well as several cities in the US, AFWLA is set to be an amazing cultural experience.
Thursday, October 10, 2013 
Opening Night Mixer + Afro Pop-Up Shop
Papillion Institute of Art
1835 S. Main Street, Los Angeles, CA, 90015
(6pm-10pm)
This free event invites all fashion lovers to preview some of our presenting designers collection as well as AFWLA beauty vendors. This sample sale event is only for AFWLA fans and guests, there will be an opportunity to network and mingle while enjoying our live DJ set as well as a fully stocked bar.
Friday, October 11, 2012 
Runway Shows - Emerging Designers
525DTLA
525 w. 7th St., Los Angeles, CA 90014
Presenting Designers:
Yaskia Mode
Chalina Couture
Menogu Designs
Josefa DaSilva
Ama Kwame Custom
Damey's Collection
Thriftqueened
6pm – Red Carpet
7pm-10pm - Runway
Saturday, October 12, 2012 
Runway Shows - Established Designers
525DTLA
525 w. 7th St., Los Angeles, CA 90014
Presenting Designers:
Della
Tina Summers
David Giampiccolo
2African Girls
House of Versatile Styles
Maryzo Designs
6pm – Red Carpet
7pm-10pm – Runway
10-12pm – Closing Night Party

Tags: 2African Girls, Africa, AFWLA, David Giampiccolo, Della, Fashion, House of Versatile Styles, Maryzo Designs, Tina Summers