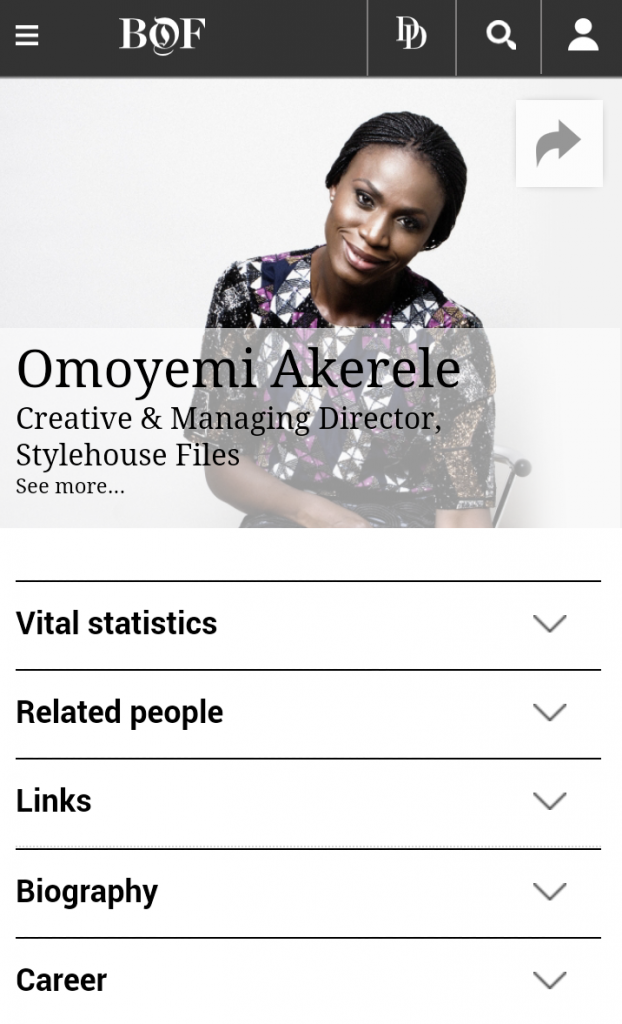 Style House Files creative director and creative behind the Lagos Fashion and Design Week Omoyemi Akerele was today listed in the Business of Fashion's first ever Global 500 list. The list features the key people shaping the global fashion industry. It's also important to note that only one other  black person made it into this list asides Omoyemi Akerele & its none other than Supermodel Iman.
What is the BoF 500?

No other industry has a cast of characters as passionate, diverse and interesting as those who influence and animate the business of fashion, from business titans and daring young designers to power princesses and discreet behind-the-scenes catalysts, in cities from New York to Paris to Beijing and beyond.

The BoF 500 is a live, visual index of these talented shapers of the global fashion industry, curated by the editors of The Business of Fashion and powered by social media.

Explore the BoF 500 to learn who they are, what they're doing and how they break down, from designers to entrepreneurs to behind-the-scenes catalysts, hailing from 27 countries and representing 50 different nationalities.
Other notable people on the list include Angela Ahrendts (Burberry, Chief Executive) , Anna Wintour (Vogue US, Editor) & Bernard Arnault (Chairman & Chief Executive LVMH).

Tags: Africa, BOF, Business of Fashion, Fashion, Omoyemi Akerele